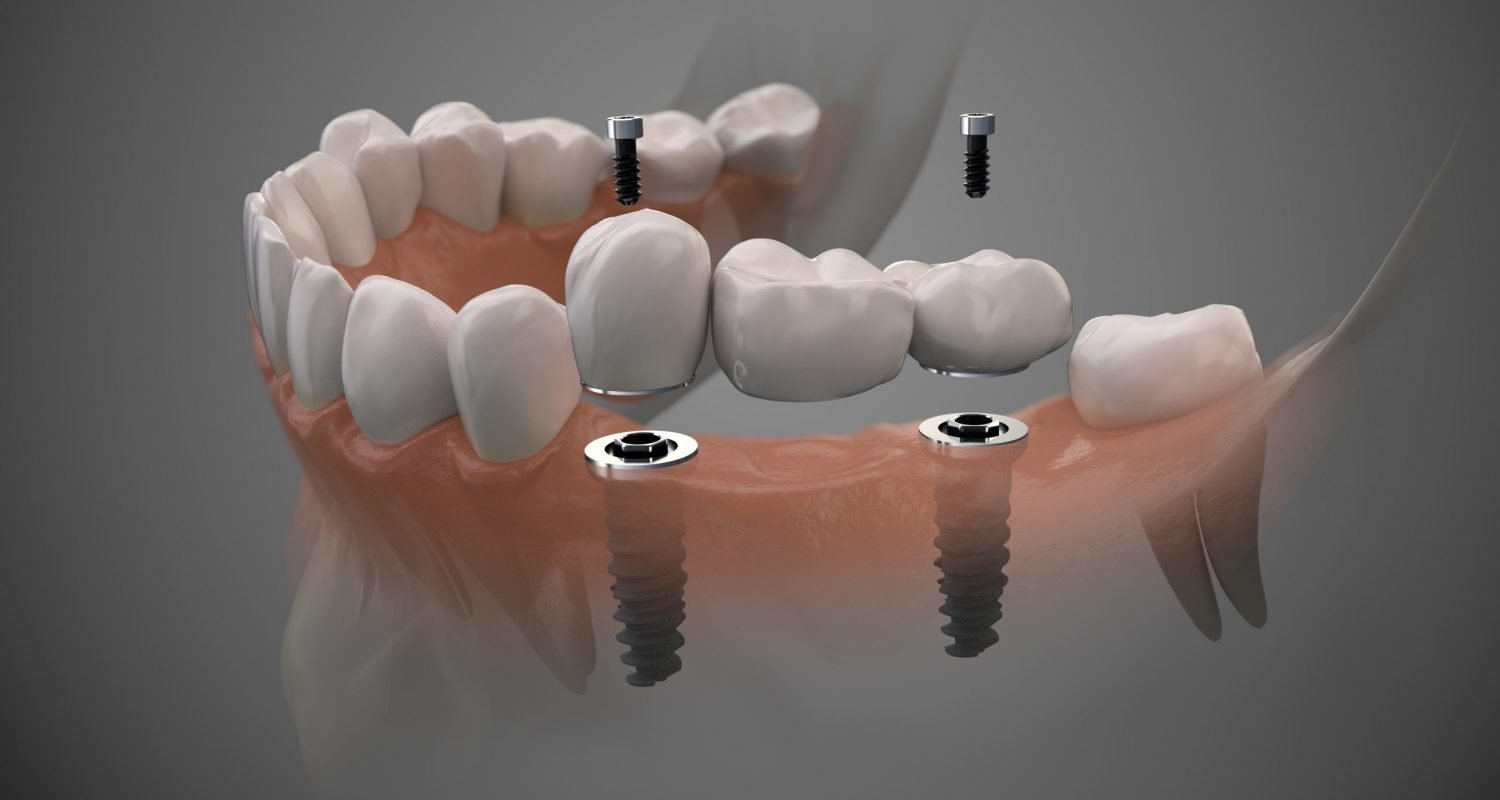 Dental Implant
The blank created by teeth lost for any reason does not only affect aesthetics but also loss of function come about in the area. Screws which are made of titanium material, which are placed in their place in order to ensure both aesthetics and function of the teeth, and which act as a natural tooth root, are called implants. This treatment, which is done without causing loss and abrasion in healthy teeth, is the best method preferred to complete missing teeth.  Although dental implant treatment prices have been a bit expensive in the past years, with the increase in technology and diversity, today it is more economical than in previous years.
Tooth roots have a great support role on the jawbone. Implants undertake this task and help support the dental prosthesis from the jaw.
The purposes of making dental implants,
Elimination of multiple missing teeth
Treatment of a single missing tooth
Supporting a bridge to multiple teeth
It is done to fix removable dentures in edentulous cases.
Implant treatment that is developed by a Swedish orthopaedic surgeon in 1952, is a surgical procedure. Therefore, sterility and expertise in the dental implant procedure are very essential.
How Is a Dental Implant Made?
Dental implant treatment, which is a simple surgical procedure, should be evaluated when the tooth was extracted or how thick the jawbone is. It does not pose a risk to the implants made on the anterior teeth, as there is no load when the jaw is closed. If there is no problem in the jawbone, the size and type of the implant are determined in proportion to the bone thickness, then the implant socket is opened in the area with special surgical tools and the implant is placed in the jawbone like a screw. After the implant is fused to the bone (this takes about 6-8 weeks), the prosthesis is placed on the implant and the process is terminated.
How Successful Is Dental Implant Treatment?
Dental implant treatment is one of the most successful methods. A success rate of 98% is achieved in dental implants. Implant treatment performed with proper care and by an expert team is durable for life.
Dental Implant Treatment Process
Local anaesthesia is first applied to the point with a tooth cavity. The implant is placed in the jawbone without any pain or pain. As a result of placing the implants in the jawbone, it will be necessary to wait between 6 and 8 weeks for the integration with the bone. After this period, veneers, crowns and bridges, if any, will be made. It is normal for patients to have swelling after surgery. When prescribed painkillers are used, minor pains related to the operation can also be controlled and a comfortable process can be experienced.
What are dental implants?
A dental implant is a man-made root which is gently placed where your tooth root used to be. It can have a crown on top or be used to secure a denture. Read more.
Why should I choose an experienced implant dentist?
Dental implants require a dedication to advanced dental techniques and technology. Our dentists have changed the lives of thousands of patients with dental implants and we provide more dental…
Are implants safe? How long will they last?
Implants are a well-established, tried-and-tested treatment. 96 per cent of modern implants last for more than 15 years. If maintained correctly, most people find they last a lifetime.
Can I have the new teeth straight away?
Sometimes. We like to allow the implants to fuse to the bone for between three and six months and you can wear a denture during this time (which will need to be adjusted). It's possible to…
Do implants hurt?
Not at all. Placing of the implants is comfortable and carried out under local anesthetic. We usually recommend some sedation to make the procedure easier for you. You won't feel any pain…
Can I get fixed teeth on mini-implants?
Mini implants are designed to make a loose denture more secure. They are not usually designed for use with a fixed tooth. They work best on the lower jaw where the bone is strongest.